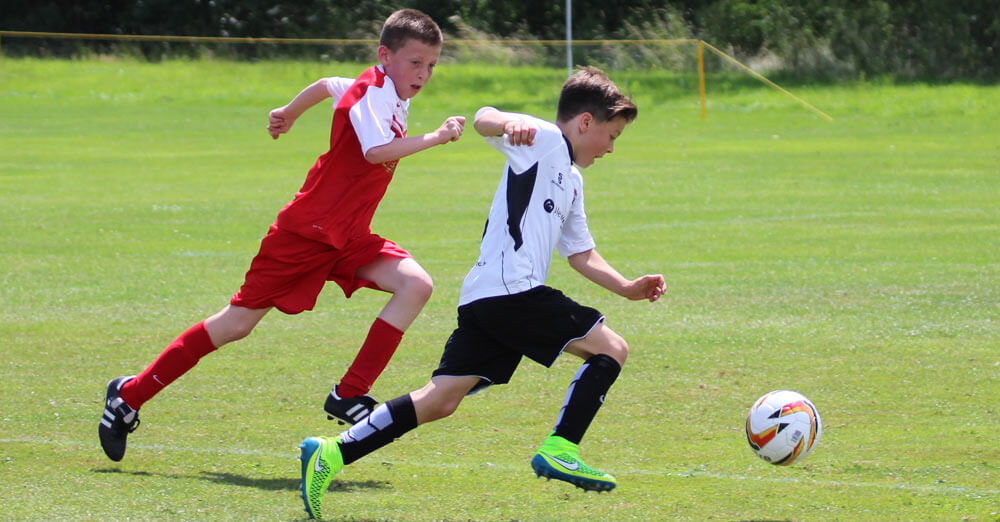 Football Tours at Butlins Skegness, Lincolnshire
ESF Festival of Football
The ESF Skegness festivals are not only our most popular events, selling out year after year, they're also the biggest tournaments of their kind in the UK, with up to 400 teams and 14,000 people joining us annually.
In 2017 we will be staging two huge festivals at Butlins Skegness; The Leicester City Cup over the May Day Bank Holiday weekend, and the Foxes Cup. These prestigious festivals are supported by Leicester City FC.
Danny Murphy, Stuart Pearce, Casey Stoner, Ian Rush, Sir Geoff Hurst, Mark Lawrenson, Bryan Robson, Sue Smith and Jordan Nobbs have all made special guest appearances at ESF Skegness in recent years.

Accommodation and Entertainment
It's not hard to see why we have so many teams queuing up to get into our Skegness festivals each year – Butlins Skegness is without doubt one of the very best holiday resorts in the UK. The resort is crammed with a huge variety of sports and leisure facilities, exciting rides at the Funfair, superb evening entertainment venues, quality accommodation and great places to eat and drink.
The brand new £15 million Splash Waterworld with lazy rivers, flumes and rides galore, is one of the very best pool complexes in the country – your kids are going to absolutely love it… not to mention the parents! Then there's the Multi Sports Court, the Laser Arena, the Go Kart Track and much much more… There's even a Health Spa for all the mums on tour!!
When the evening comes round, Hotshots has full size Ten Pin Bowling and an entertainment complex with video games and American Pool, or you can catch a box office hit at the onsite Cinema. There's also a fantastic range of entertainment on offer at the two premier venues, Centre Stage and Reds.
Your families will enjoy the hottest entertainment every night, at no extra cost! Some of the UK's most talented performers appear in Butlins' West-End quality shows, including top names you'll recognise from TV, tribute acts, live bands and more.
There's a full range of accommodation in Standard, Silver and Gold grades on offer to suit all budgets. If your club like a bit of luxury on tour, the new Seaside Apartments are set in the heart of the resort and are a great place to rest your head after a day of action at ESF.
Butlins' half board dining plans are always popular with our teams on tour. There's a great range of food on offer and you can go back for more as many times as you like, perfect for hungry young footballers after a day of action at the pitches.
There's an endless list of reasons why so many teams return to ESF at Butlins Skegness each year, and why the Skegness festivals continue to be the most popular tournaments of their kind in the UK. Join us at ESF 2017 to see what all the fuss is about, there's no better place to take your team on tour.
2017 Tournament Information
Fri 21 – Mon 24 April 2017
Fri 28 April – Mon 1 May 2017
(May Day Bank Holiday Weekend)
Team Registration Fee:
U7, U8 boys: 5-a-side
U7, U8 boys: 5-a-side
£99 per 5-a-side team
U9, U10, boys: 7-a-side
U10, U11, U12, U13, U14, U15, U16 girls 7-a-side
U9, U10, boys: 7-a-side
£139 per 7-a-side team
U11, U12 boys: 9-a-side
U11, U12 boys: 9-a-side
£159 per 9-a-side team
U13, U14, U15, U16 boys: 11-a-side
U13, U14, U15 boys: 11-a-side
£189 per 11-a-side team
OR Club Registration Fee (unlimited teams) = £399

Please refer to the Terms & Conditions of booking. Click here.
All members of your party (players, coaches, parents, supporters etc) must book their accommodation through ESF Events Ltd.
Accommodation Prices are per person (Inc. VAT) for 3 nights accommodation.
Accommodation grades and sizes of unit listed above are subject to availability.
Full under-occupancy charges apply if the minimum occupancy is not reached. i.e. if 3 guests book a 4 berth unit of accommodation, they will have to pay for 4 guests.
Additional grades of accommodation may be available.
*A moderate charge may apply to some facilities.